Sanity 2 Madness is Mona Mula's first-ever album. She gave it this title because she feels like one half of the album is sane while the other half is insane; just like how her brain is wired. She likes to describe herself as a quintessential dichotomy, hence why the album and all its facets radiate that description. The album entails both upbeat and dark vibes; it's a painting of Mona's envisioned world.
In terms of the artwork, uncanny elements are fabricated into the album cover and that's also why the album was set to release on the 31st of October 2020; it complements the aura of Halloween. The clown is a symbol that represents the entire album and that's why it's incorporated into the title – symbolizing humor, playfulness, talent, carelessness, volatility, and celebration.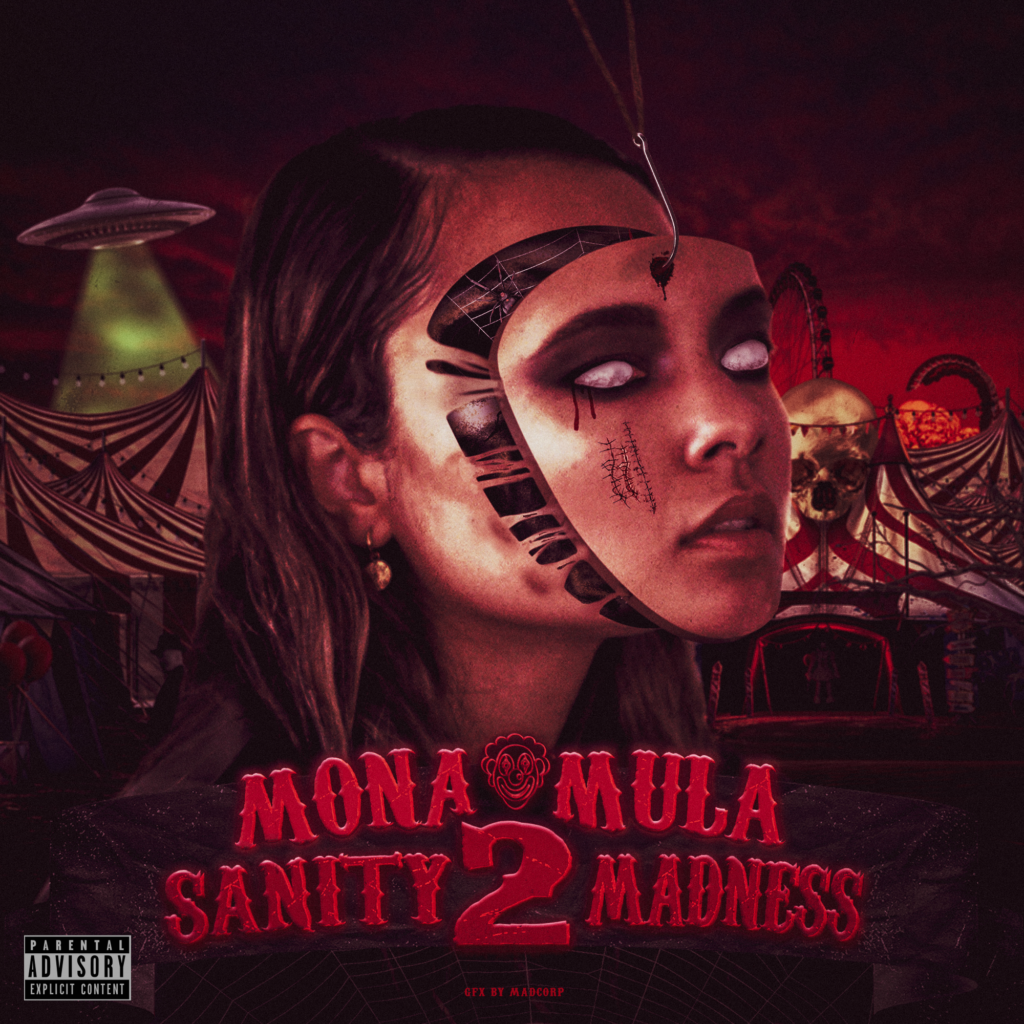 However, the meaning of a clown is twofold. After all, people have a dark side, hence why people can see behind Mona's mask on the album cover. Clowns denote a penchant for adventures and this suggests that Mona sometimes perceives life as a kind of game. This is reflected in the sixth track of the album during the first verse when she sings, "Running circles like this life is just a game, time is ticking and I start to lose my name."
Additionally, the UFO symbolizes the phenomena of synchronicity where external events mirror internal psychic states. These fears center around the inability to differentiate truths from the world's fiction and the fact that many of the world's current affairs are undecipherable.
Moreover, the circus and broken rollercoaster are a symbol of Mona's world. The world, she believes, has made us believe that we must be entertained. We seek thrills and those kicks are hard to find. So, welcome to Mona's circus. Welcome to insanity. Welcome to the madness. Your new source of entertainment.
Lastly, as Mona wrote this album, she is/was still an undergraduate bachelor student so the album was put together with little money. Literally every song was made in her bedroom. She has done all this as an unsigned and independent artist with no label and no official/established team. What made the album work is that she managed to establish a team who all shared one common trait — passion. You don't need money to create art, you just need yourself and a passion.
CLICK HERE TO BUY "SANITY 2 MADNESS" NOW!
Art Director: Nadia Kal
Graphic Designer: Madcorp
Motion Designers: Angelina60, Rafni FX & Chamith Gurusinghe
Engineers: Hans Rodríguez, Blem9 & Adrum
Producers: AbSynapse, GRAUX, CaptainLAZ, BOWSY, Roc Legion & Stolen Pizza